9x45 AR
Oct 11, 2018 20:20:16 GMT -5
Post by HMC710 on Oct 11, 2018 20:20:16 GMT -5
By Popular Demand...… drum roll..... The 9x45 AR
Since we have been doing the 357/358 ARMax, half of our inquires are about a "full length" maximum AR for deer hunting.
My answer is always the same....
#1. Find out if your state has a maximum case length. Some are 1.6"
#2. Find out if your state requires a real case headstamp. (that means no wildcats)
Can it be done? Sure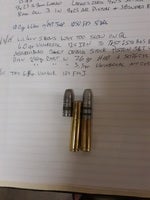 My first super heavy was a 9x23 loaded with 300gr hard cast subs. Wow, nice sledge hammer.
Running Quick Design on the 357 Maximum and stretching to 45mm allows a 2.25" OAL with a 225gr hard cast seated in the crimp groove. I suggest 9mm to put some body taper in the case. We are already blowing out the base of the .223 with the 357 ARMax's.
Quick Load says we can hit 2100 fps with a 180 gr Hornady SSP at 50,000 psi chamber pressure. Others on the web say the 357 Remington Maximum can outperform a 35 Remington, but I do not agree. Especially when you run our 35ARem! But, stretching out to 45mm.... Boy Howdy! as they say. Yes, you can truly have 35 Remington performance in the AR.
So the question are: (and this is where allyall need to jump in)
1. What caliber? 35 (358) with a solid supply of bullets, 357 just because, 9mm to gain some body taper to autoload the AR, or... something less than the .356?
2. We need a name: 9x45 was what I called the first one because I used 9mm dies to size my virgin Maximum brass as the 357 dies over did it.
3. Bullet weight? Light ripper or heavy hammer?
4. Barrel twist? 357's usually are 1:20 (see Mike Bellum's page on this data); 35 cal are 1:14; 9mm are 1:10. Stabilizing the bullet takes RPM. Slow & Fast, or Fast & Slow..... 450 Bushmaster is a prime example of Fast & Slow: Fast bullet, sloooow twist.... 1:20 or 1:24 I think. Pushing a 180 - 200 gr bullet at 2000 fps, makes it interesting.
5. Reamer design: Of course, based on the results of the above.